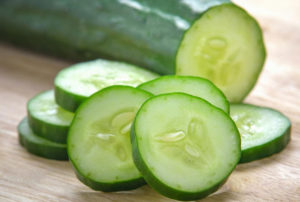 Cucumber enhances the splendor of the table every season. As cucumber is very beneficial for dehydration, its importance and demand increases every time but mostly during hot weather time. Cucumber is considered one of the best vegetables for those who are diabetic and are also trying to lose weight. That's why cucumbers are counted as a must in detox water.
There is a lot of talk about utilizing cucumber diet benefits in this pandemic time. So, let's find out something special about it and know how it benefits our body in this pandemic time.
The cucumber diet is a short-term diet, which definitely helps in weight loss. People also follow a variety of other diet plans, but most diabetic people who follow the cucumber diet say that you can lose up to 4 kg in 10 days. Since cucumber is a healthy food, its effects on a diet may surprise you.
This diet consists of cucumbers and some protein foods such as eggs, chicken, fish, and nuts, meaning cucumbers become a substitute for your diet, and other fruits and vegetables are minimized. Since there is not much variety in this diet, it is not recommended following this diet for more than three weeks.
There are no standard rules for this diet, except to eat cucumbers with most foods. This is because cucumbers are very low in calories, so no matter how much they are eaten, the calories do not increase. In addition to calories, cucumbers do not contain protein, which is a nutrient that maintains the health of your skin, muscles, and joints.
That's why experts recommend using cucumbers with protein foods. In addition, you are allowed to eat carbohydrate foods such as toast, brown rice, or potatoes in this diet. Below are the names of the foods that you can use in your cucumber diet.
Vegetables: cucumbers, tomatoes, spinach or a small number of other vegetables
Protein: poultry, minced meat, fish, eggs, yogurt, cheese
Carbohydrates: Brown rice, potatoes, wholemeal bread
Oil: Olive oil
Cucumber diet plan in one day:
Breakfast: an egg with cucumbers
Snack: Two cucumbers
Lunch: Cucumber salad with yogurt and lemon juice
Snack: Two cucumbers
Dinner: Roasted chicken and cucumber along with brown rice
Benefits of Cucumber:
Cucumber is something that your hand reaches out to itself and you start eating it before you even start your meal. There are several benefits to eating cucumbers. Some of them that I know, I mention here:
Cucumber consumption helps in relieving joint pain.
If someone has high cholesterol in their body, they should immediately make cucumber as a part of their diet. This will help to control their cholesterol.
If you are obese, include cucumber in your diet along with dieting and exercise. Cucumber will play an important role in reducing obesity.
Cucumber plays an important role in improving the digestive system, so make it a part of your daily diet.
Don't worry if you have a headache. If your doctor has not prescribed medication, start using cucumber instead of self-medication. This will help relieve your headaches.
Cucumber also helps protect against diseases such as cancer.
Cucumber contains 95% water, so it protects your body from dehydration. It eliminates salt deficiency in the body.
Yes, cucumber is an excellent food for diabetics as it helps in controlling your diabetes.
Cucumber also plays an important role in controlling your blood pressure.
Cucumber also cleanses the kidneys and protects the body from excess uric acid.
Due to its moisturizing properties, cucumber is also beneficial in the treatment of gastric ulcers, especially when cucumber water is used.
So, these are the benefits that I know of using cucumber in our daily diets. If you know something new about cucumber diet benefits, please share it with me in the comments below.